The conference will be held in the center of the city of Bordeaux at the Mercure Bordeaux Centre Hotel.
The address of the hotel is:
5 rue Robert Lateulade
33000 - BORDEAUX
FRANCE
Tel : (+33)5/56564343
Fax : (+33)5/56965059
Mail : H1281@accor.com
ACCESSING THE CONFERENCE CENTER

The Mercure hotel is located close to the tramway station Mériadeck of line A. To buy tickets for the tramway, there are vending machines on each tramway station. They accept cash and credit cards. You can find information on the tramway maps here.
ACCESSING BORDEAUX CENTER BY AIRPLAIN

From the Bordeaux-Mérignac airport to Bordeaux downtown, there are several public transportation possible. The "Jet'Bus" connects the airport to Bordeaux center every 45 minutes (7 € for a one-way ticket). Another option is to use the public bus line "Ligne 1", which connects the airport terminal to the Place des Quinconces in about 45 minutes for 1.40 € ("Tickarte 1 voyage", i.e. a single-trip ticket). There are also taxis in front of the airport, which cost approximately 30 € for one way.
ACCESSING THE CITY CENTER FROM THE TRAIN STATION

The main train station of Bordeaux is « Gare Saint-Jean ». From there, to go to the center of Bordeaux, you can take the tramway in front of the train station (line C), direction « Bordeaux Aubiers ». If you want to come directly to the conference from the train station, stop at « Porte de Bourgogne » and take the line A towards « Mériadeck Centre ».
MAP OF THE CITY CENTER AND CONFERENCE LOCATION

Here is a map of the center of Bordeaux, locating the conference center and the tramway stations.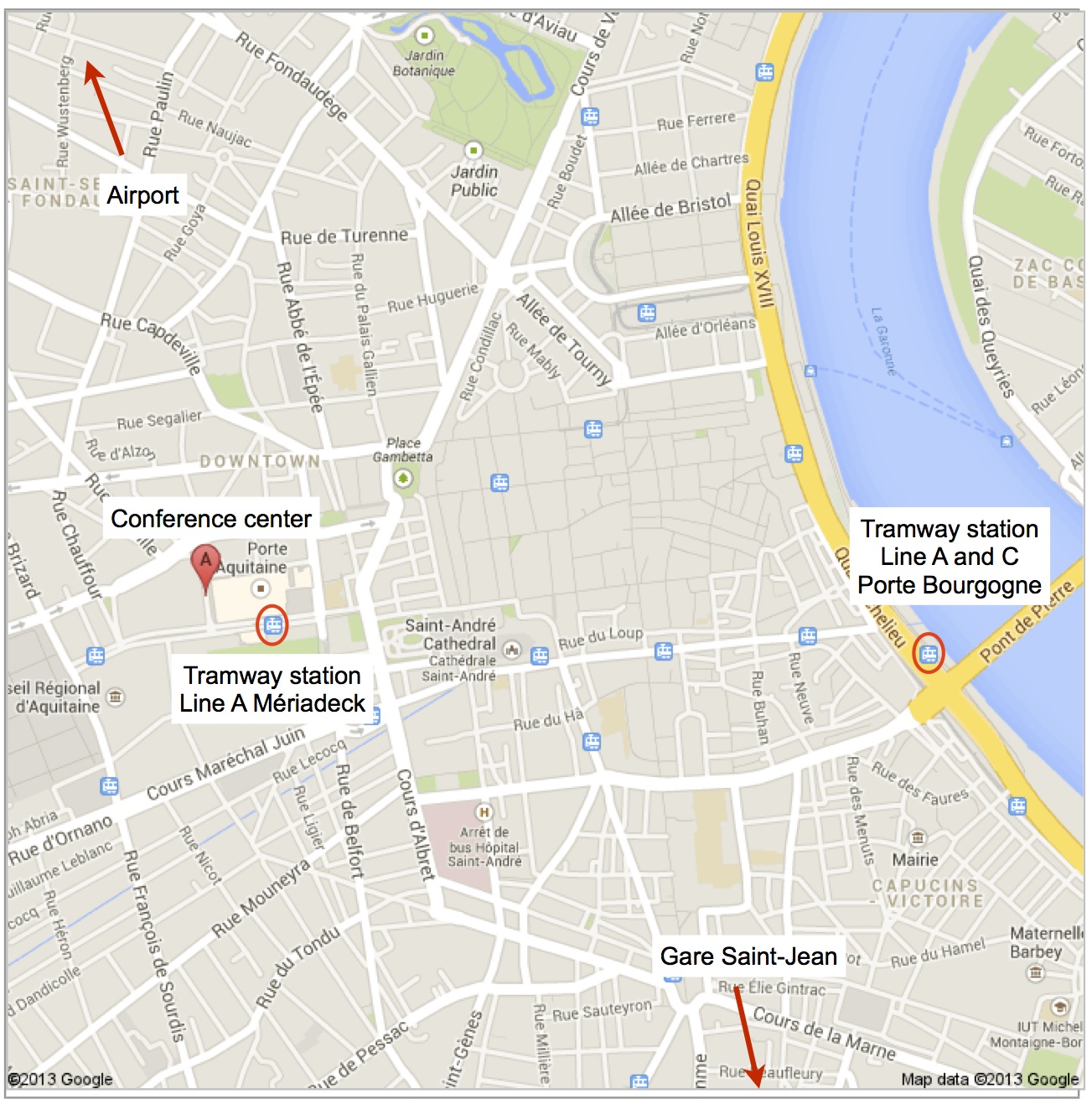 TOURISTIC INFO ABOUT BORDEAUX
Office de tourisme de Bordeaux